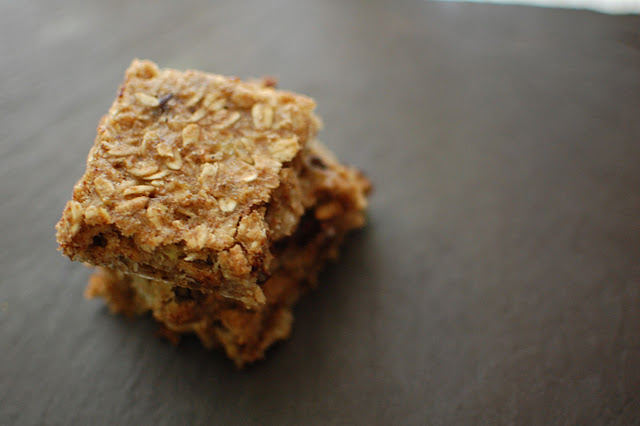 I've been on the hunt for some healthy snacks for the kids, instead of the pre-made pre-packaged variety. Turns out healthy is often not yummy, and we've had a lot of flops on the way. Solution found in these babies! Full of peanut butter, whole wheat, oats and yogurt, rich in fiber and protein. The perfect solution for keeping little (and big) tummies full.

Banana Oatmeal Bars
Makes 20 bars (about 2 1/2 x 3 inches)
3/4 cup whole wheat flour
2 cups rolled oats
1 1/2 cups puffed rice cereal
1/4 teaspoon salt
1/4 teaspoon nutmeg
1 teaspoon cinnamon
3 very ripe bananas, peeled and mashed
1/4 cup honey
1/4 cup plain yogurt
1/4 cup peanut or almond butter
1 teaspoon vanilla
1/2 cup bittersweet or semisweet chocolate chips
1. Preheat the oven to 350 degrees. Line a 9×13 baking pan with parchment, leaving enough hanging over on the edges so you can pull out the finished product.

2. In a large mixing bowl, combine the flour, oats, rice cereal, salt, nutmeg, and cinnamon, stirring well to combine. In a second large bowl, combine the banana, honey, yogurt, nut butter, and vanilla. Stir until the mixture is fairly uniform.

3. Pour the dry ingredients into the wet ones and stir until they come together into one uniform mixture. Gently stir in the chocolate chips. Transfer to the prepared pan and flatten down with a spatula. Bake for 30 to 35 minutes, or until just starting to brown on top. Remove from the oven and let cool for at least 1 hour before removing from the pan and cutting into squares.
From http://www.eatingfromthegroundup.com